Challenges Addressed
---
---
PRICING
Starting at:
The Beauty of it
---
Permanent hair reduction
Clearer, smoother skin
Approved by the FDA
ABOUT LASER HAIR REMOVAL
Whereas shaving, waxing, and depilatories work temporarily and can cause unsightly, painful razor rash or ingrown hairs, laser hair removal attacks the root of the problem, quite literally. Laser hair removal using the DIOLAZE™ system works by sending a diode laser beam through the pigment of the hair, heating and damaging both the hair follicle and hair bulb to prevent future growth.
In addition to removing the hair, Diolaze laser hair removal reduces folliculitis (bumps) and visible follicles, giving your skin an improved texture and appearance. Since your hair follicles are likely to be at many different stages of growth during your first few treatments, you'll need to schedule regular treatments for maximum results over a period of months, after which you may need once-yearly maintenance treatments. Then get ready to revel in clearer, smoother skin and permanent hair reduction.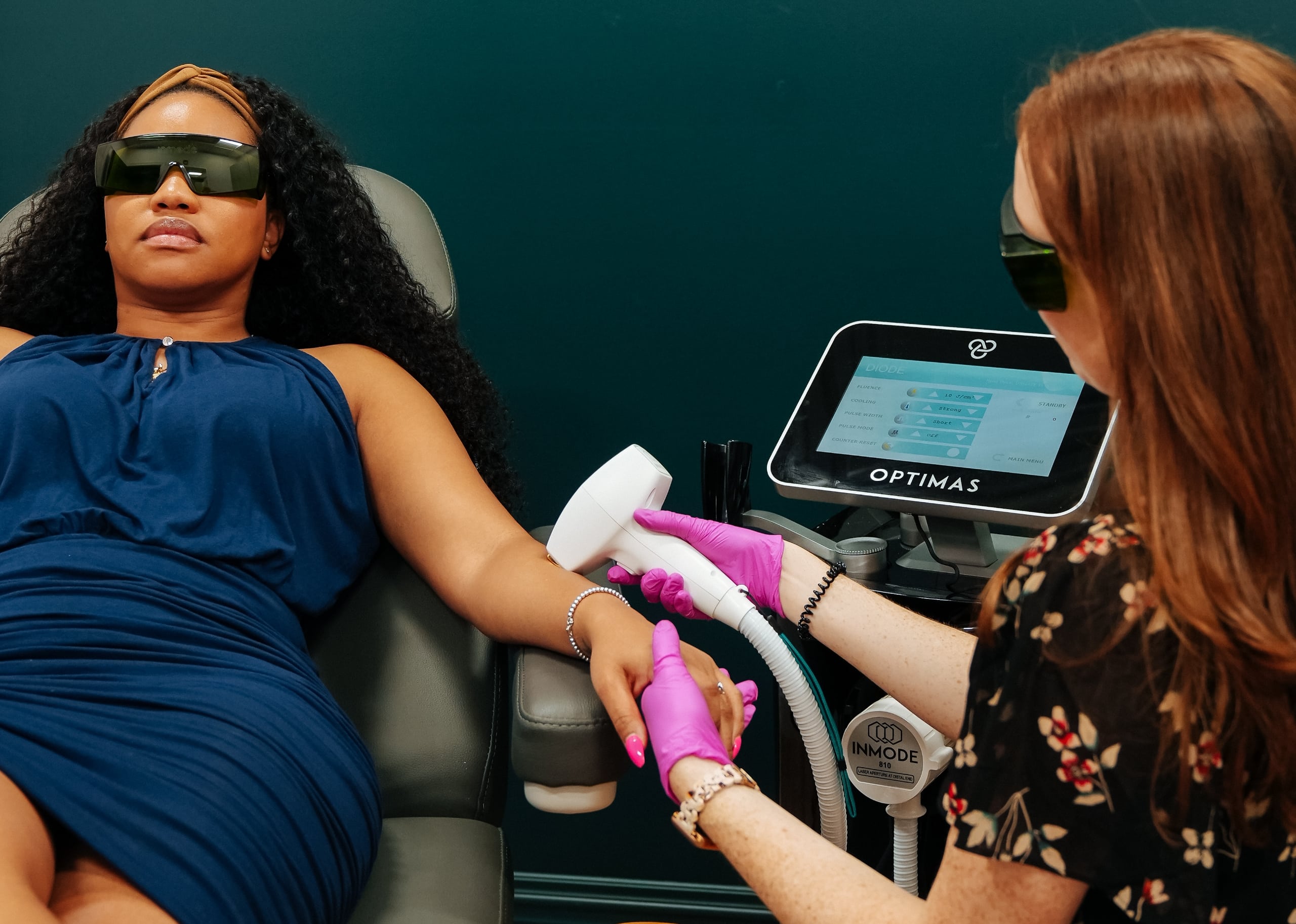 Where Can It Be Used?
Diolaze laser hair removal can be used on the face, chin, sideburns, and anywhere on the body, such as the neck, bikini, legs, arms, shoulders, stomach, chest, and back.
Per Area
Standard
Price
Member
Price
6 Pack
Standard Price
6 Pack
Member Price
X SMALL
Chin, Upper Lip, Toes, Fingers, Hair Line
$95
$86
$485
$437
SMALL
Sideburns, Cheeks, Under Arms, Neck
$145
$131
$740
$667
MEDIUM
Bikini, Lower Stomach (below belly button), Full Face
$235
$212
$995
$896
LARGE
Lower Arms, Lower Leg, Full Stomach
$345
$311
$1,760
$1,584
X-LARGE
Chest, Back, Full Legs, Full Arms
$445
$401
$2,270
$2,043
Clients are expected to show up clean-shaven for laser hair removal appointments. If we have to shave the area on-site during the appointment, there will be a fee of $50 for X Small – Medium areas and $100 for Large – X-Large Areas.
FAQ